OFFICINA
MOBILE h24
Road Assistence H 24
ASSISTANCE NON-STOP
Officina Mobile
OFFICINA
MOBILE h24
Road Assistence H 24
OFFICINA
MOBILE h24
Road Assistence H 24
Our mobile workshop equipped for external repairs 24h
This is custom heading element
IVECO offre un servizio di assistenza su strada attivo 24 ore su 24, 7 giorni su 7, festività comprese, per garantire ai clienti il massimo supporto!
Servizio Assistenza stradale veicoli commerciali ed industriali. Soccorsi con garanzia di pagamento, assistenza h24.
IVECO offers a roadside assistance service active 24 hours a day, 7 days a week, including holidays, to guarantee customers maximum support!
Assistenza su strada e/o ricovero in officina
Obiettivo: assistenza entro un'ora
Ovunque, in Italia e in Europa
Basta una telefonata
L'operatore parla italiano
Il più alto standard di servizio in Europa
Iscrizione gratuita e nessuna tassa annuale
Per tutti i veicoli Iveco
Se in garanzia, nulla da pagare
Roadside assistance service for commercial and industrial vehicles.
Assistance with payment guarantee, assistance h24.
Roadside assistance and / or admission to the workshop
Objective: assistance within one hour
Everywhere, in Italy and in Europe
A phone call is enough
The operator speaks Italian
The highest standard of service in Europe
Free registration and no annual fee
For all Iveco vehicles
If under warranty, nothing to pay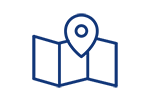 OVUNQUE IN ITALIA E IN EUROPA
EVERYWHERE IN ITALY AND EUROPE
ASSISTENZA ENTRO 1 ORA
ASSISTANCE WITHIN 1 HOUR
La Procedura:
Il cliente telefona alla centrale operativa
La centrale operativa richiede tutti i dati del cliente, del veicolo e la località dove il mezzo è fermo, la natura del guasto
La centrale operativa attiva il Punto Assistenziale Iveco più vicino al luogo dove è richiesto l'intervento e fornisce: le indicazioni sul tipo di intervento tecnico da effettuare e sullo stato di garanzia del veicolo
Il Punto Assistenziale, dopo aver ricevuto le suddette indicazioni, dovrà tassativamente indicare l'ora in cui è previsto l'arrivo sul luogo dell'intervento.
The procedure:
The customer calls the operations center
The operations center requests all the data of the customer, the vehicle and the location where the vehicle is stopped, the nature of the breakdown
The operations center activates the Iveco Service Point closest to the place where the intervention is requested and provides: information on the type of technical intervention to be carried out and on the vehicle warranty status
The Assistance Point, after having received the aforementioned indications, must strictly indicate the time at which the arrival at the place of the intervention is expected.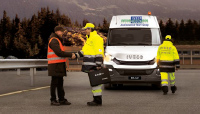 OFFICINA MOBILE
ASSISTANCE NON-STOP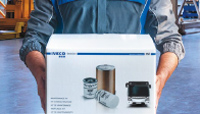 RICAMBI ORIGINALI
ORIGINAL REPLACEMENTS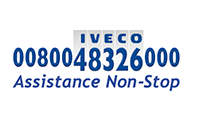 ASSISTENZA H 24 
ASSISTANCE NON-STOP
+39 02 92 160 428